Auto-Wares is a group of companies in the automotive parts aftermarket business. We are a distribution company headquartered in Grand Rapids, Michigan. Auto-Wares has been providing the complete parts needs for jobbers since 1976. Auto-Wares is made up of a group of companies all providing you specialization in inventory, product knowledge, and programs!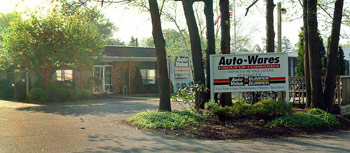 OUR BUSINESS PHILOSOPHY
Auto-Wares is a full-service, full-line, full-program supplier who believes in honesty and integrity in all our business dealings. We like to treat customers, employees, and vendors all like friends and business partners.
OUR CUSTOMER
Auto-Wares is dedicated to selling to the independent jobber. He is our past and our future. Auto-Wares re-supplies and services over 600+ auto parts stores. Our company direction is planning and building for the long term. We are interested in long-term, mutually beneficial relationships with our customers. Our company goal is to be our customer's best supplier. We believe the best way to say "thank you" is to give our customer a reason for staying serviced by us.

Web Content Display
The selected web content no longer exists.